As a Deltona homeowner, you appreciate the beauty and shade given by the trees on your property. Trees not only improve the appearance of your landscape, but they also provide several environmental benefits.
However, regardless of whether you cherish these natural resources, it's critical to realize the potential dangers and hazards associated with poor tree care and attempt to undertake tree-related duties on your own. Employing professional tree services in Deltona is crucial to ensure safety, safeguard your property, and keep your trees healthy and beautiful.
1. Safety First
Tree maintenance duties can be dangerous, especially when they involve large trees or branches that are unstable. Attempting to remove, trim, or prune a tree without the necessary knowledge and equipment can result in injuries, accidents, or property damage.
Our professional tree service in Volusia have the expertise, experience, and safety practices to properly complete tree care chores. Our team of trained arborists and skilled specialists are well-versed in the finest practices for tree removal and pruning, guaranteeing that your family and property are not jeopardized.
2. Expertise and Knowledge
Professional tree service providers understand tree biological processes, diseases, and growth patterns intimately. They can analyze the health of your trees properly, detect any problems, and propose appropriate treatments or care plans.
To be more specific, a licensed arborist can spot indicators of insects, diseases, or structural flaws that an inexperienced eye may miss. Their knowledge enables them to take preventative measures to ensure the longevity and good health of your trees.
3. Property Protection
Another risk is that inadequately managed trees might become an inconvenience rather than a blessing. During storms or severe winds, overgrown foliage or weak limbs might endanger your property.
With our professional tree trimming in Volusia or pruning every now and then, you'll reduce the chance of falling limbs and damage to your home or property. We also offer tree treatments such as tree removal and stump grinding, which help to keep diseases from spreading to other trees on your land.
4. Environmental Stewardship
Hiring professional tree services does wonders to improve the overall health of your community's ecosystem. Trees provide important environmental benefits such as storing carbon, air purification, and habitat for wildlife.
By ensuring proper tree maintenance, your community's trees will continue to grow and play an important part in maintaining ecological balance.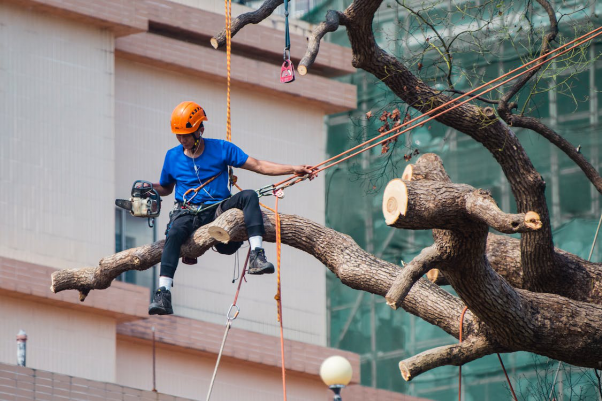 5. Time and Cost Savings
While DIY tree care may appear to be a cost-effective solution, it can result in additional costs and time-consuming effort in the long term. You may make costly blunders if you do not have the necessary expertise and equipment. That's why you should ideally opt for tree care in Volusia county since they'll provide time and money-saving alternatives while ensuring high-quality outcomes.
In conclusion, pursuing professional tree services in Deltona is a sensible investment to ensure safety, safeguard your property, and maintain the beauty and health of your trees. Entrusting tree care responsibilities to our professionals offers peace of mind, knowing that the project is being handled by licensed arborists and skilled technicians.
Contact our team and take the proactive step of looking after your trees and creating a safer, more beautiful environment for your family.