Trimming your trees is an important part of tree care management. Unfortunately, many homeowners cut their trees too close.
Not only can this cause damage to your trees, but you may also be left with unsightly branches. If a branch falls on the ground, it could take down power lines or damage and break windows; if it stays atop a tree, it'll create safety concerns for you and your family.
That being said, here are some common mistakes that homeowners make when trimming their trees:
1) Making cuts in the wrong location
When trimming your trees, it is important to know where to make cuts so that you do not damage your tree. Making cuts in the wrong location can lead to irreversible damage.
When removing limbs from your tree, you should always try to make your cuts at the collar of branch. It is also important that if you're cutting a whole limbs down, make your initial cut approximately 2 feet away from the trunk, with an undercut so the limb does not peel and tear into the trunk. Small limbs can be cut much closer to the trunk than 2 feet, but the same principle will apply. Once the main limb is removed, you are generally safe to remove the remaining stub back to the collar of the branch. Or you can even hire a professional tree service company like Clayton's Quality Tree Service LLC for tree trimming services.
2) Removing too many limbs or topping
When trimming trees, removing too many limbs or topping your tree can irreversible damage. Trees should be well balanced and have a solid structure. Removing selected limbs can be either beneficial or detrimental to the tree.
The balancing of a trees canopy plays a crucial role in its survivability to wind and other circumstances. The canopy of a tree provides cruical load dampening in windy conditions. If a tree is one sided or unbalanced, wind will have a much greater effect and can lead to a higher risk of uprooting or snapping. Care should be taken to keep a trees canopy balanced.
Topping trees is one of the worst things that can be done to a tree. The process of topping removes the trees main stem at the desired height. This compromises the trees stucture and will often times kill the tree. If the tree survives, its structural capability is highly compromised and will result in the tree needing to be removed.
3) Not wearing proper gear
Most homeowners don't think about safety when they're taking down their trees. The right equipment can help you avoid a lot of potential hazards, including falling branches that could hit you or your children. Wear long sleeves, pants, and closed-toed shoes when working near a tree.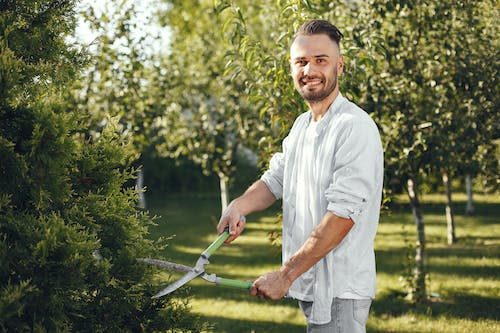 So, if you're not sure what kind of equipment will work best for trimming your tree, consult with a professional tree care service provider who knows how to handle this type of project safely and effectively.
4) Not checking for disease or insects
Another common mistake most homeowners make when trimming their trees is not checking for signs of disease or insects. Some diseases can be prevented by properly trimming the tree, but others are difficult to detect.
So, if you see any significant damage, such as holes in leaves or trunks, or if you notice that the bark is peeling off and you have a lot of browning around the edges of the tree, it's time to get your tree checked out by tree care professionals like Clayton's Quality Tree Service LLC for reliable tree trimming services!
As a trusted tree care company based in Deltona, FL, we offer various tree care services including 24/7 emergency tree removal service, tree pruning, as well as stump grinding and removal.
For service estimates and further details, feel free to contact us today!